Members: Katie Bailey, Corinne Conn, Audrey Dyer, Wilson Hammett, Seleena Moore, Cara Pattullo
This Bicycle Pedestrian Survey project was used to survey the walk-ability and bike-ability of Charlottesville. Survey data collected from the assigned neighborhood was then added to Neatline to create an interactive map. For Team Two, the assigned area covered Emmet Street, starting from the intersection at JPA and ending at the intersection at Barracks Road. There were 12 additional intersections between the start and end points that were surveyed.
The color system of the segments and their corresponding details were based on part three of the survey (overall perceptions). While most streets are multifaceted in their features, encompassing positive and negative attributes, the overall perceptions of a street help shape future plans for maintenance and improvement. For this project:
Green was used for segments deemed "strongly agree" or "agree" in safe walking and biking
Yellow was used for segments deemed "neutral" in safe walking and biking
Red was used for segments deemed "strongly disagree" or "disagree" in safe walking and biking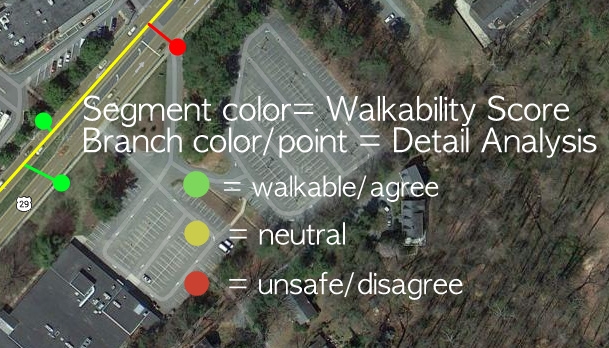 If a segment fell into different categories for walking vs. biking, discretion was left to the segment creator to decide the defining color. Pictures within a segment that depicted something incredibly dangerous and drastically different from the segment color were given a different color and explanation for the change in the photo description.